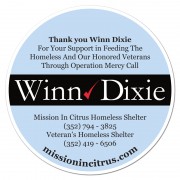 The Mission in Citrus would like to thank Winn Dixie Supermarkets, and the Southeastern Grocers Association for reaching out to help so many in need. Their help has allowed them to help those in the woods and swamps of rural Florida. Getting them into shelters for further help, and to supply food to thousands. They hope that many other Corporations will follow their lead.
Crystal River, Florida, August 18, 2015 (Newswire.com) - ​​The Mission in Citrus is very grateful to the Winn Dixie Foundation for helping them to help so many in need. Since 2013 , Winn Dixie has helped to supply food, tents, bikes, shelter, medical kits, lanterns, sleeping bags, and so much more to the rural homeless population in Citrus County Florida and surrounding areas. 
The Mission in Citrus has had many tragedies in 2014-15, which included the deaths of ten present and former residents of their homeless shelters. Three helped to run the shelter for many years, and they are sadly missed. But it is Corporations like Winn Dixie that helped them to overcome obstacles and continue. The Mission in Citrus has geared up and will be training new volunteers to get the job done. Thanks to Winn Dixie, the Mission in Citrus will be able to start the largest push ever to reduce homelessness. New volunteers are reaching out to help deliver supplies into the woods and talk them into shelter. Operation Mercy Call has been a big success over the years.
Operation Mercy Call is that one call that people make to help others. When they see those in need, struggling in the outdoors, they give the Mission in Citrus that vital call. It was also named as a call to action. Action that has saved lives. They were hit badly when one of their former residents hanged themselves in the woods after he just gave up in the early months of 2015. It brought sadness to many. And the look of one that hanged themselves, is not a pretty sight. Many needs have to be addressed as this must stop. Over 20 Veterans commit suicide each day. Thank you Winn Dixie for helping them do their part to prevent as much as possible.
They applaud Winn Dixie, and they will be soon wearing their new shirts that proudly display our soldiers, and the words. No Veterans should be homeless. And Winn Dixie on the back. They believe that people should know who has helped them help others.
The Mission is launching another new and innovative project in the next few months that will reduce the Veteran's face of homelessness and draw attention to the huge problem. Statistics say the problem is decreasing. In the trenches and front lines, that is a myth. They have several grants in process to make it all happen.
About the Mission in Citrus Homeless Shelters
Their Mission is to help all in need to the best of their ability. They follow the parable of the Good Samaritan, as there are no requirements for their services. They constantly reinvent the wheel, and adapt quickly to make it work in any situation. The faces of homelessness can change as well as each individual's circumstances.
Their founder became homeless himself, and found that traditional shelters were not working, and did not address the needs of the homeless, especially Veterans. This in and of itself was discouraging, as our Veterans fought for the rights of all, not just themselves. The Founder feels that no one should lose those rights by becoming homeless. Many fought and also died for freedom in America.
They work hard to provide housing and supportive services for the homeless Veterans that are the hardest to reach, including those who refuse to go into a shelter and live out in the rural wooded areas of Citrus County. The Mission also provides referrals to other community agencies, such as child care providers and legal aid.
The Mission in Citrus Inc. operates three shelters located in Crystal River, and Inverness, Florida. The Mission in Citrus strives to help all in need - regardless of their faith or lack of. It is not a requirement for any of their services. Most of their current projects concern Veterans, as they are becoming the new face of homelessness each day. 
Share: