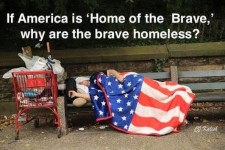 The Mission in Citrus is working hard to get a 100 bed permanent housing facility open by Christmas of 2016. One of the biggest problems facing our aging veterans that have served this country honorably, is affordable housing. The Mission in Citrus feels that this goal can be accomplished with help from others. The facility will be located in Crystal River Florida, and will house Veterans from around Florida, and those who migrate to Florida for health reasons.
Crystal River, Florida, April 9, 2016 (Newswire.com) - ​​The Mission in Citrus is working to address the problem of affordable housing for aging veterans who have served this country honorably. Many of our aging veterans are losing their houses and apartments due to increased rents that they cannot afford. The Mission in Citrus is working on an innovative way to start helping these veterans live a higher quality of life.
Our honored veterans have served this country and protected us, and our freedoms. They deserve our help. Many of our veterans are struggling to pay their rent, find affordable food, and to just make ends meet. But it is very difficult on low service-connected disability payments, SSI, or pensions from working all their life. It is a total shame that they gave all, and are receiving very little.
There is absolutely no reason for America to allow it's honored Veterans to give up hope, or to suffer in the world's largest economy..
The Mission in Citrus is working on a capital campaign to raise $1.5 million dollars to open the facility before Christmas. Owning the facility will allow them to make rents very affordable to veterans who need it the most. They are studio apartments with kitchens, living room, and many other amenities. It will also allow for a gym, medical help from volunteers at area hospitals, and is close to all shopping. Their rent will include all utilities, maintenance, and all other needs. The average rent will work out to around $400 per month. This will allow them to have a high quality of life, and enjoy the beautiful surroundings at its location in Crystal River, Florida. They will be able to fish, go boating, and enjoy nearby parks with transportation being provided if needed by the county bus system.
Once open, the Mission in Citrus will be accepting veterans that apply from anywhere in the country. Many veterans moved to Florida due to health reasons, or to be closer to family.
The Mission in Citrus welcomes site visits as they are very transparent. They have earned the Gold GuideStar Seal, many reviews on Great Nonprofits, and have proven a very high rate of success since 2008. They are allowing the largest donor to name the facility, or in Memorial of a loved one.
The Mission in Citrus has worked very hard to gain the support of Walmart, Home Depot, Big Lots, Southeastern Grocers, and many more corporations. Over 90% of given support goes directly to the clients. Last year they helped thousands on a budget smaller than most congressmen. This project has been in their plans for long time, and they plan on moving forward quickly.
Look for their RV and POW / MIA box truck at the Rolling Thunder Rally at the Pentagon on May 29th, and then to the White House to gain attention to their cause.
Share: